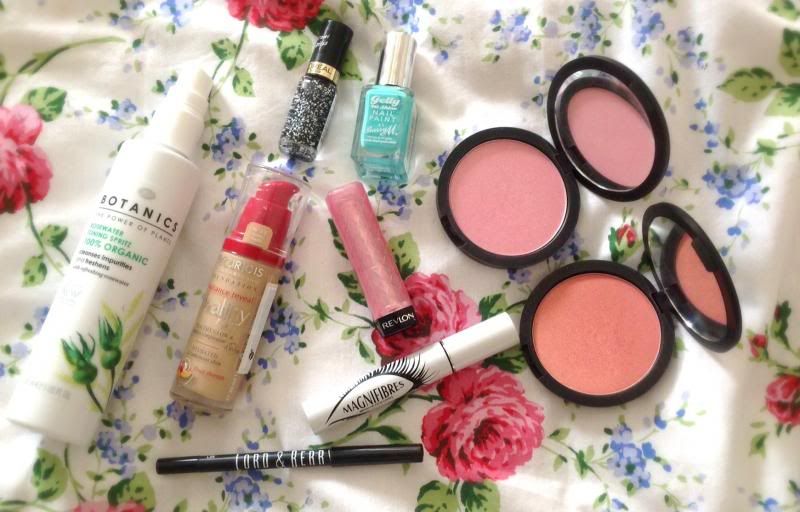 I don't usually do a 'monthly favourites' posts just because I don't really use enough products or switch them up enough to have a different set each month. However at the moment there are a few gems that I have been constantly reaching for.
First up are the nail polishes, Barry M Greenberry and L'oreal Confetti top coat. I cannot get enough of these, greenberry has pretty much been on my nails every other time it's gorgeous and really perfect for spring. The Confetti goes so well with any pastel colour and is a really easy way to jazz up your look.
The Dainty Doll blushes are the find of the year so far for me, excellent quality and pigmentation. They have definitely been my 'go to' blushes since they arrived.
I was in a bit of a pickle trying to decide whether to repurchase Bourjois Healthy Mix or Rimmel Wake Me Up Foundation, but with the new glass bottle I couldn't resist Healthy Mix and I have well and truly fallen back in love with it.
The Revlon Lip Butter in Cotton candy is another product I've re discovered. I love how moisturising it is while giving my lips a pretty natural finish.
Botanics Rose Water Spritz is a new addition to my skincare routine, I've been using this every morning to help wake my skin up.
Lord and Berry Smudgeproof Eyeliner* is just an amazing eyeliner, its super black and has great staying power, what more can you want from an eye liner?
Last of all is the Magnifibres*. I was so sceptical about this product at first but every time I use it I love it even more. If you have shorter lashes this will be perfect for you, it helps to add length and volume without the need for false lashes. Perfect for a night out.