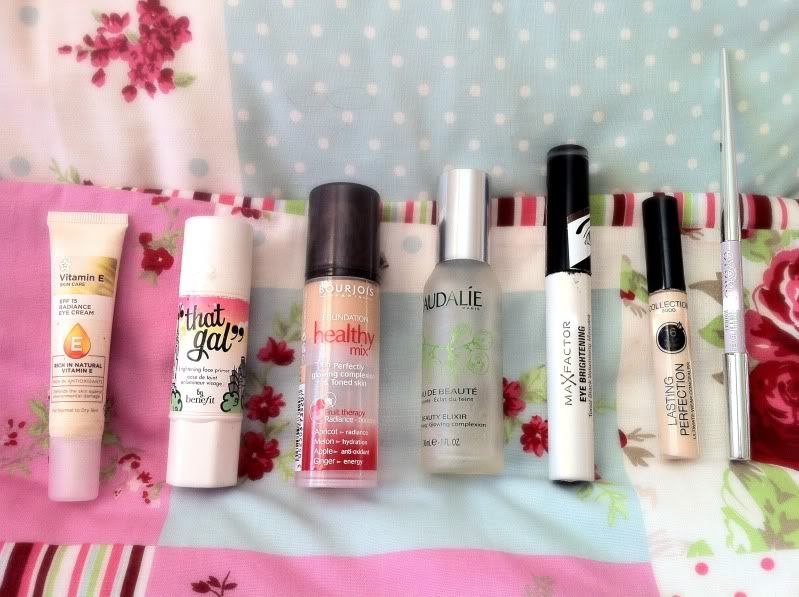 'Never again!' Two words that I have said many a time. We all know the feeling, if only we had said no to that last glass of wine or had taken it easier on the shots we wouldn't be in this self inflicted mess right now.
Looking in the mirror the morning after the night before has often made me think what a state! How did I go from being dolled up to the nines to looking like I've been sleeping on the streets. Puffy eyes, dehydrated skin and a mouth as dry as the Sahara Desert are some of the horrible after effects of a night on the town.
Sometime a hangover is the perfect excuse to stay in bed with a bacon sandwich glass of water and headache tablets but sometimes, especially of the night is unplanned you need to be up and running errands. I got this idea off Rebecca's blog
P0larMilk
to show you how I try and hide my hangover. I can never be bothered/have enough time to do a full face but these products are essential to help take me from looking like a corpse to a kind of alive human being.
First of all I take the Superdrug Vitamin E Radiance eye cream to try and reduce the puffyness, Then I use the
Benefit That Gal Brightening Face Primer
to try and add a bit of life to my skin. I follow this with the
Bourjois Healthy Mix Foundation
as I think it Gives a nice dewy finish or as the name suggests a 'Healthy' look. Next up is the
Collection Lasting Perfection Concealer
which is great for hiding bags under my eyes, I then finish with a quick spritz of the
Caudalie Beauty Elixr
to set the foundation and hydrate my skin.
For eyes I heard that a nude eyeliner on the waterline is great for hiding any redness. As I dont own one of these yet I have opted for my
Eyeko Eyeliner in powder pink
(I got this in a Glossy Box and always wondered when it would come in handy!) I then use the
Max Factor Eye Brightening Mascara
to make my eyes look awake.
And Voila, thats how I try to conceal my hangover. I thought this may come in handy as its Christmas party season and all.
Do you have a hangover routine? I would love to hear some of your tips!
I had my Christmas party Last Night and oh my god did I feel rough This morning! Luckily I didn't have anything to get up for, apart from hunting for something filthy to eat. Have you had your Christmas party yet?