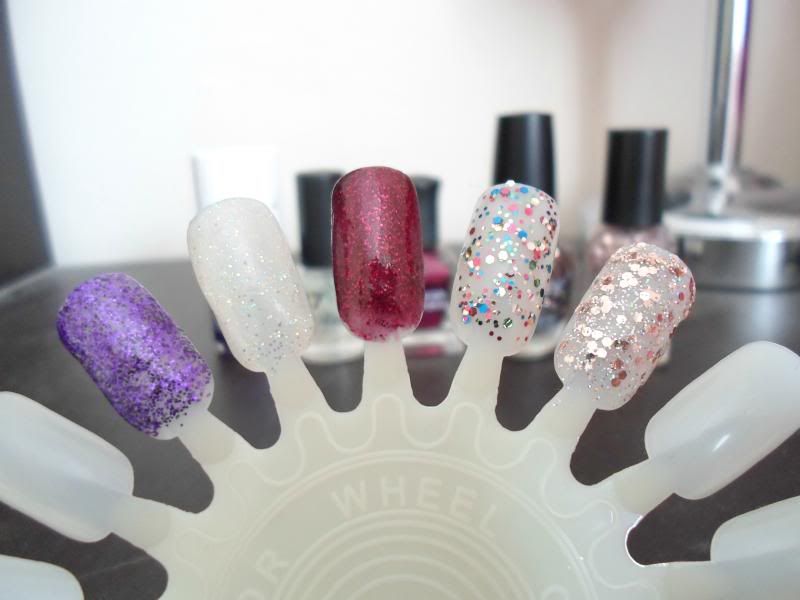 Purple Haze

♥ Glitter Top Coat

♥ Razzle Dazzle

♥ Carnival

♥ Rose Quartz
Call me a stereotypical girl but I like everything pretty and sparkly so when it comes to my nails a bit of glitter makes me feel a bit special…like a princess.
Models Own Purple Haze is a vibrant purple that I wear on my toes quite a lot, I usually use this on top of Models own's Purple Mystique to add a bit of extra excitement but you can achieve an opaque look with 2 or 3 coats.
The 17 Glitter Top Coat is a clear polish with fine specks of glitter. This is ideal to use over any colour to add a bit of shine and to keep your nails from chipping.
I think I wore Razzle Dazzle everyday throughout the festive season; it's the perfect deep crimson shade and I love to pair it with Damson Dream by No7.
Carnival by Technic is filled with bright bold glitter flecks that really do give your nails the wow factor. You can pretty much use this on any colour but I like using it on pastel colours or a white as it reminds me of sweets and cupcakes.
Rose Quartz by Barry M is the perfect princess polish. I generally use this on an accent nail or on my toes if I'm wearing pretty sandals, it looks great on holiday.
As much as I love all of these I HATE removing them. Removing glitter polishes is one of the things in life I hate the most, it really makes me angry, I know that's quite sad but it really gets my goat. I have heard though you can now buy peel off base coats which makes removing the polish easy peasey so I must look into this!
Do you like using glitter on your nails? Whats your favourite glitter polish?