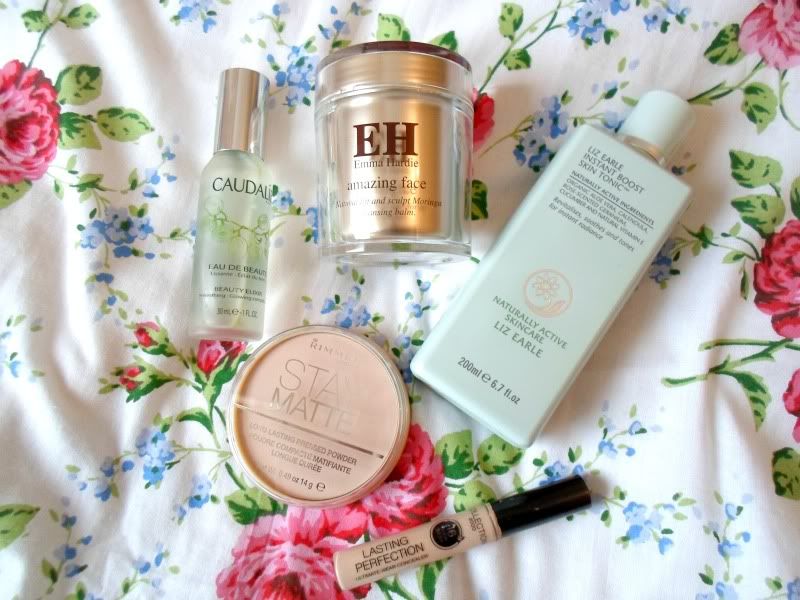 Caudalie Beauty Elixr
♥
Emma Hardie Amazing Face Cleansing Balm
♥
Liz Earle Instant Boost Skin Tonic
♥
Rimmel Stay Matte Pressed Powder
♥
Collection Lasting Perfection Concealer
Hi Guys! January has been the longest month for me money wise, trying to stretch my wages for 6 weeks has been a mammoth task so I have really tried to keep my spending to a minimum. There are a few products though that were essential for my survival. You know you love a product when you dread the thought of them running out and continue to repurchase over and over again even in the tight money months.
My first experience with the Caudalie Beauty Elixr was very love/hate, it wasn't until I actually finished the bottle I realised it was actually true love. You know that saying "You don't know what you got til its gone?" This is definitely how I feel about this and I appreciate it so much more now I have it back in my life.
This is my First full size Emma Hardie Cleansing Balm and I actually purchased it while I was half way though my trial size pot! I love, love, love it it's probably the best product that's ever happen to my skin.
Before I repurchased the Liz Earle Instant Boost Skin Tonic I tried my hardest to find a high street toner that I loved just as much, this didn't happen. This toner is so gentle and effective it really soothes my skin but if you do know of a high street dupe please let me know!
Make up wise, the Rimmel Stay Matte Pressed Powder and Collection Lasting Perfection Concealer are products that I've actually lost count of how many times I've repurchased. Its so good when you fall in love with products that don't break the bank, they both have a very safe place in my make up bag for the foreseeable future.

Today I have finally been paid! Friday and pay day is such a win it actually feels like my birthday right now. I just need to try and not go crazy and spend the majority of it in the first week. Am I the only one that finds there is too much month left at the end of the money? Happy Friday everyone.