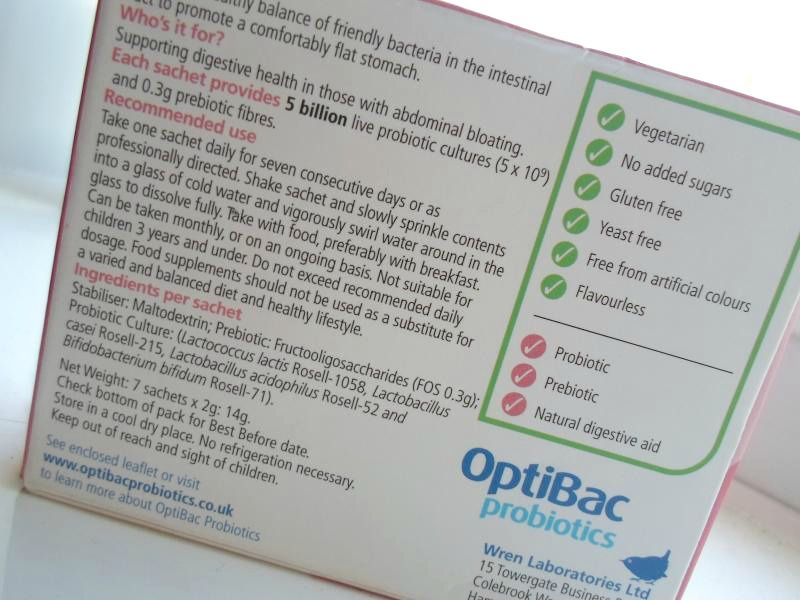 When I was offered the chance to try out
Optibac
I literally jumped at the chance, For a Flat Stomach? Yes please! I am prone to stomach bloating (glamorous, I know) so if a product can claim to help me reduce this then send it my way.
I'd never used a product like this before so I spent ages reading about the product and reading customer reviews on their website just to make sure I knew exactly what I was putting into my body.
Optibac: For a Flat Stomach is a probiotic supplement which helps your digestion and aid transit to help leaving you with a comfortably flatter stomach.
Each box contains 7 sachets of the probiotic supplement, which you take once a day for 7 days straight. You mix the powder in with water and drink it with your breakfast.
It doesn't taste of anything, which I think is a bit of a bonus because I hate it when you take something and it tastes disgusting.
There are full instructions included which answered any questions I had. It also explains the ingredients, and I love the fact it's suitable for vegetarians and gluten free so is suitable for the majority of people.
I had my first sachet on a Monday, no problems but by the end of Tuesday, I'll be honest I did feel a bit more bloated than usual, but apparently this can be because my body is adapting to the probiotics as it's something I'm not used to. It was Friday morning when I woke up and thought 'Wow! It's actually worked', I couldn't believe I felt as good as I did.
I finished my For a Flat Stomach course 7 days ago now and I am happy to report I am still feeling the benefits from it. I haven't had that uncomfortable feeling all week and my stomach is noticeably flatter, and believe me, I don't say that often! Bring on next months course.
For me Optibac's For a Flat stomach has worked a treat so if you are prone to bloating then I definitely suggest you check this out.
You can also pick up some extra bloating tips
here
!
Have you ever tried any products from Optibac? How do you beat the bloat!?