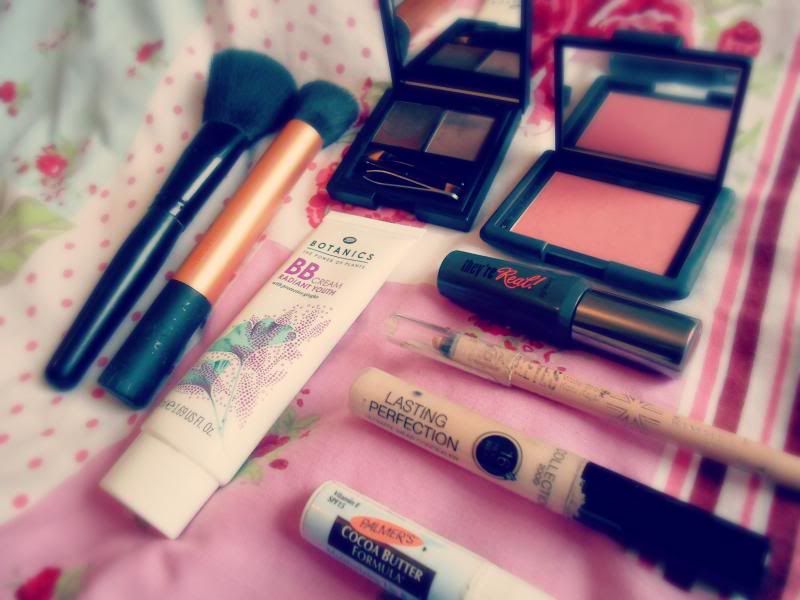 This week when Monday morning rolled around my alarm went off, followed by my second and then my third. The next thing I know the postman is banging on the door with a delivery and I realized I overslept by 30 minutes!
Panic mode sets in and I start moving so fast I could give sonic a run for his money, but somewhere in between jumping in the shower and trying to put my clothes on the right way the blogger in me thought what a great idea for a post, so here are the products that made it onto my face in the 3 minutes or so that I had to turn myself from zombie to a presentable employee.
For a base I used the Botanics BB Cream which gives a light and dewy finish to brighten my skin. The next step and probably most important is concealer, those under eye bags have got to go so I opted for the Collection Lasting Perfection Concealer as its pretty heavy duty and will easily help hide the fact that I'm still half asleep. I think this took me about a minute to apply.
I used the Sleek Eyebrow Kit in dark for my brows and I know some people may not class brow products as an essential but it really does make a difference to my face when they are filled in. Rimmels Scandaleyes Eyeliner in Nude used on my waterline helps to hide any redness, I finished my eyes with Benefit's They're Real on my lashes, this is great for fanning out my lashes and making my eyes look more open.
Last but not least is a bit of blusher; the nearest one to me was Nars Orgasm which added a nice of a healthy glow. I finished off with a bit of Palmers Cocoa Butter Lip Balm on my lips and I'm done.
Thinking about it now maybe I can actually get away with and extra half an hours sleep more often!
What products do you reach for in a rush?