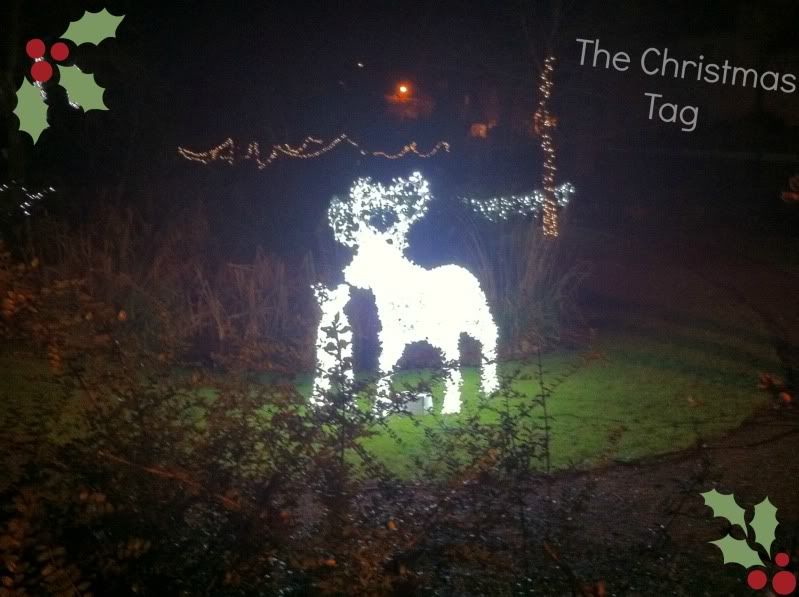 This Picture is from my local village, you know its Christmas when the reindeer lights come out!
I'm feeling so Christmassy today so here's the Christmas Tag created by Georgina .
1. What is your favourite thing about Christmas?
It's so hard to pick just one thing, from having my first mince pie to having time off from work just to spend time with my family and friends. And who can forget that Roast dinner!
2. What is your favourite make up look for festive the season?
I'm
loving the natural look with a bold lip. You also can't beat glitter nail polish.
3. Real tree or fake tree?
Fake. I live with my friend and oh my god I can't imagine the chaos if we had a real tree in our house. We are quite impatient anyway so having to pick up the needles and bits that fall off the tree winds me up just thinking about it haha.
4. Giving presents or receiving presents?
Obviously everyone loves to receive gifts, but the look on someone's face is priceless when they open something you gave them and you can see how much they appreciate it.
5. Do you open presents Christmas morning or evening
Always in the morning. Everyone is usually in there pyjamas and fluffy slippers with a cuppa and we try and take it in turns to open one present each.
6. Handmade Christmas cards or bought?
I am the most un artistic person ever, I think a five year old making a card out of dried pasta would do a better job! So
I'm
afraid I buy them.
7. What is your favourite Christmas film?
It's not Christmas until
I've
seen The Snowman and Santa Claus The Movie, oh and Home Alone! I also love Love Actually, gotta love a bit of romance at Christmas.
8. What's your favourite Christmas food?
I love mince pies, but it has to be my mums roast potatoes; I could eat them all day.
9. What's your favourite Christmas song?
A bit cheesy but Mariah Careys All I Want For Christmas Is you. It just reminds me of being out with my friends having a dance and being all festive.
10. What's your favourite Christmas memory?
One of the best things is playing games with my family at night. One yeah when we were playing charades my cousins girlfriend has to act out 'Broke Back Mountain', well let's just say the actions were hilarious, my Grandma
didn't
know where to look!
Right then guys I hope you all have an amazing Christmas and eat as much as possible.
I'm
going for lunch with my friends today; it's our Christmas eve tradition to have a bottle of prosecco and wear Christmas jumpers.
I'm
not ashamed to say I will probably be up ridiculously early like a child tomorrow and I can't wait. On Boxing Day
I'm
off down to see my boyfriend's family and we are having a few days away to relax. Keep your eye out for a few scheduled posts as the signal down there
isn't
great, I'll see you in the New Year!