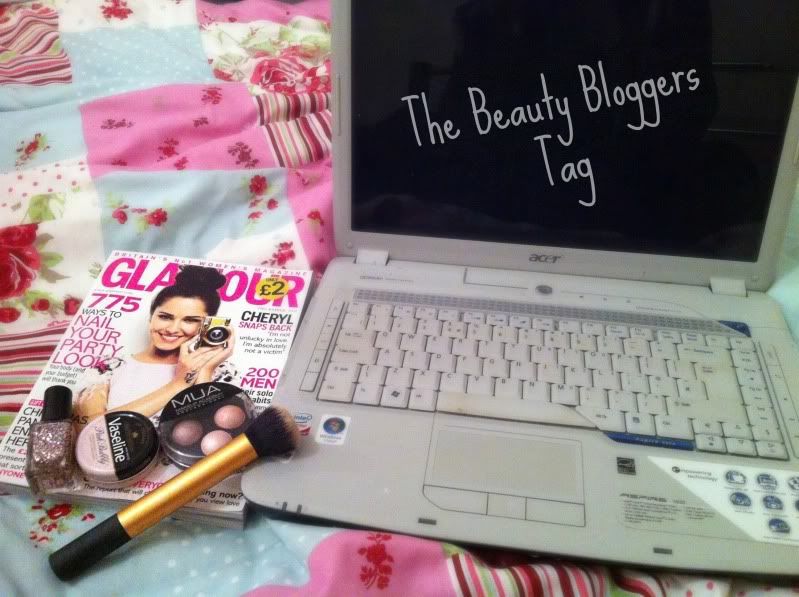 Hi Ladies! Today's post is the Beauty Bloggers Tag which I have been tagged in by Jasmin and Kirsty over at
Beauty is Perfection
Why did you start blogging and how long have you been blogging for?
I discovered the world of beauty blogging about this time last year, but it wasn't until April that I first hit the 'publish' button. I have always had a love for everything girly, but back in April I was in a bit of a rubbish place so starting a blog seemed like a great idea to keep myself busy and I've never looked back. It was also something to try and build my confidence and I think I'm getting there.
Whose blog did you fall in love with first?
I think it was Anna's from '
Vivianna Does Makeup
', this girl could literally make me want to buy a plastic bag. I love how passionate she is about products and she just seemed very genuine. Her blog is beautifully written with great clear photos and is one that I continue to check regularly.
What was the first blogosphere hyped about product you bought and was it worth the hype?
Liz Earle and yes.When I first discovered blogging you couldn't escape the hot cloth cleanser hype, I'd never used a cleanser like it so I was immediately sold. I love the Liz Earle skincare range, the ingredients are all natural so you know you aren't harming your skin, its not too expensive and the customer service is excellent. I haven't got a bad word to say and would definitely recommend her line.
What are your favourite five things about blogging and being a beauty blogger?
♥ Products! It's so good being able to read other peoples thoughts about products before going out and spending my hard earned money on them. If I'm after something new you can guarantee you will find great reviews which will help push you in the right direction.
♥ The people. I know its cheesy but everyone is so friendly, I love chatting with people on twitter. A lot of my friends don't share the same cosmetics obsession as me so its great to know there is a whole community out there that who get excited about the same things I do
♥ Posting. I find it really satisfying pressing publish, even if its the smallest post I always have a sense of achievement when its done. If I get comments I get so excited that people have actually taken the time to read my posts and go to the effort of commenting, it makes me smile.
♥ Photographs. I love taking photos and editing them, I will take photos of anything from food to scenery to products, for me it's one of the most fun parts of blogging.
♥ Purchasing! Who doesn't love shopping and buying new things?
What have you learned from being a beauty blogger?
Oh god, where to start! Well it has become very clear to me that I spend a lot more money that I should on cosmetics haha.
Have you changed anything since being a beauty blogger?
Yes, I now apply my foundation with a brush,
I'm
not sure how I managed to apply it with out one! And the importance of taking your make up off at night. DO IT!
What advice would you give to a beauty blogger just starting out?
Its your blog, make sure it represents you. Don't just write about a nail varnish just because everyone else is, I like to hear passion and
excitement
about a something don't just jump on the bandwagon for the sake of it. I also like nice big pictures but
that's
just my personal preference.
Name your top five brands!
Oooo at the moment i'd say:
♥ Max Factor
♥ Liz Earle
♥ No7
♥ Bourjois
♥ Avene
Recommend your top five favourite beauty products!
This changes all the time but I'm currently loving:
♥ Caudalie Beauty Elixr
♥
No7 Hot Cloth Cleanser
♥ MUA Undressed Palette
♥Accessorize Blush in Scandal
♥ Max Factor Eye Brightening Mascara
Have you done this tag?
I'm so happy its Friday, a whole weekend of no work and its my Christmas Party tomorrow I'm really looking forward to it, we are all wearing Christmas Jumpers! I'm also just waiting on 2 presents being delivered and then my Christmas shopping is finished! Hopefully they will come today fingers crossed. What are you doing this weekend?