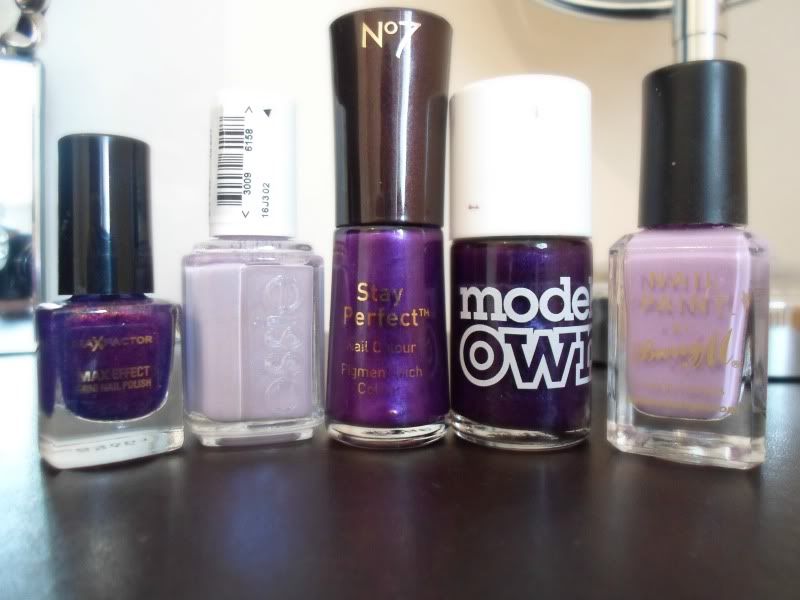 Fantasy Fire ♥ To Buy or not to Buy
♥ Vivid Violet
♥ Purple Mystique
♥ Berry Ice Cream
As my
Case of the Blues
post went down so well I thought it would be a great opportunity to create a series of my favourite polishes, today I am showcasing my passion for purple. Purple is one of my favourite colours, I love how it's so versatile and can look great at any time of the year. These 5 are my most reached for and just the most gorgeous shades.
Fantasy Fire byMax Factor is the most beautiful colour to look at it has a gold shimmer running through it. The gold really makes the colour a bit special and looks fabulous on a night out. The only problem with this is its very sheer and takes at least 4 coats (yes I said 4!) to get an opaque finish. To be honest I usually lose interest after coat 2 but if I have the time and effort to put in it looks great.
To Buy or not to Buy
was my first ever
Essie
polish and think its gorge, it's a very pale lilac with tiny flecks of glitter perfect for summer I just with the glitter was a bit more noticeable.
Vivid Violet by No7 is another great shade for all year round; I love the shiny finish it gives. Purple mystique by Models Own is probably the colour that frequents my toes the most often, I don't know why but purple toes make me happy.
Barry M's Berry Ice Cream was without a doubt my polish of choice in summer 2012. Pastels are essential in the sunshine and Barry M certainly knows how to work a pastel! In fact Today's winner has to be Barry M's Berry Ice cream, wearing this again has really made me remember the good times of last summer and I can't wait until the sunshine arrives back here in England!
Do you love a purple polish? Which one is your favourite?