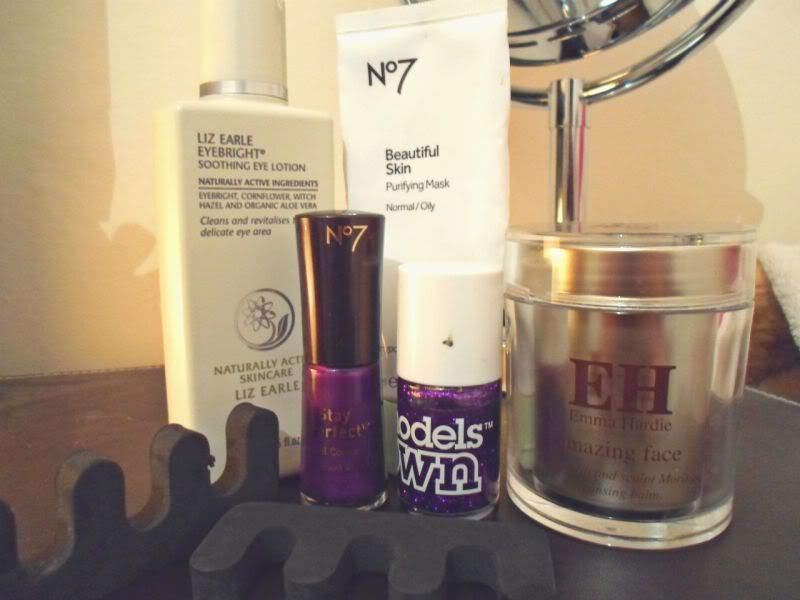 Sunday Essentials
There's no better feeling than putting your feet up after a mad weekend and that exactly what i'm doing tonight.
After spending the weekend at my friends in London eating, drinking and sleeping on the floor in my sleeping bag all I want to do is feel clean and have a good sleep in my own bed.
To start the huge bags under my eyes are hideous lack of sleep really does take its toll, so I soaked 2 cotton pads with Liz Earle's Eye Bright and left them on my eyes for 10 minutes, I find this so relaxing. Next up my skin needed a mega deep clean, Emma Hardie Amazing Face Cleansing Balm, what the hell would I do without you?! I could literally feel the effects of the weekend melting off my face. I then followed this with the No7 Purifying mask just as a little extra treat for my skin; I love how soft this leaves my skin.
While I'm waiting for my boyfriend to finish work I decided to paint my toenails to, today's choice is No7 Vivid Violet and Purple Haze by Models Own, pretty painted toenails make me feel special.
Sunday night wouldn't be complete without a cup of tea, cheeky bar of chocolate, the #bbloggers chat and an early night, gosh I sound old. Once I've gone through my photos I'll hopefully be able to show you a few from my weekend, if you follow me on
Instagram
you may have already seen the delicious food I have indulged in! I can't believe its Monday already tomorrow, where does the time go!?
What have you been up to this weekend? Do you have a Sunday night routine too?