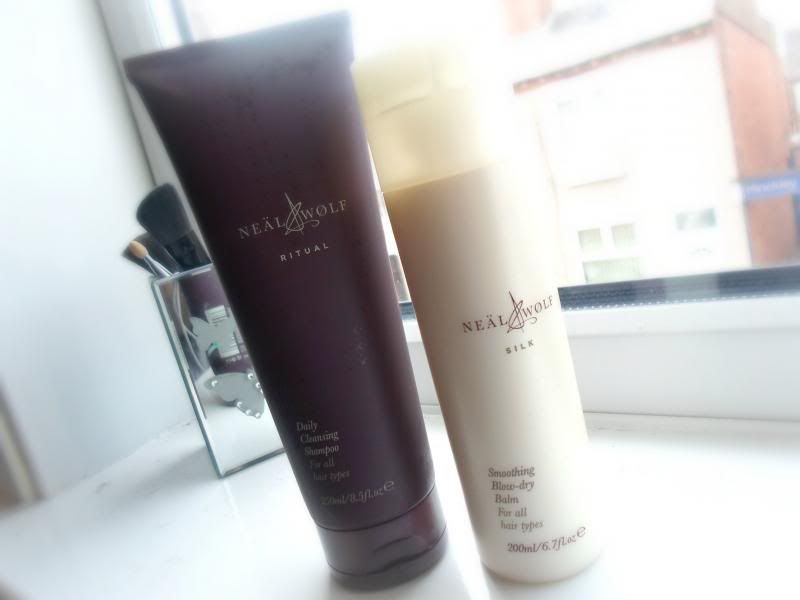 Ritual Daily Cleansing Shampoo Silk Smoothing Blow-Dry Balm*
After having my hair cut a few weeks ago I have now found a new love for my hair so when asked if I would like to receive some products from Neal and Wolf I jumped at the chance. I haven't used any Neal and Wolf products before but I have noticed them creeping up on a lot of blog posts lately so i was excited to try for myself.
First of all I love the packaging; it's sleek and has a really soft feel to it. I really like how on the back it uses the word 'Indulgence', making your hair care sound more like a luxury than a necessity.
The
Daily Cleansing Shampoo
has quite a musky smell to it, it really reminded me of when i used to go to the hairdressers with my mum when I was younger, it smells 'professional' if that makes sense. It feels so lovely on my hair and lathers up a treat
My hair tends to be prone to dry ends so was recommended to try the
Silk Smoothing Blow-Dry Balm
. You apply a small amount to damp hair before drying and it helps to de tangle and de frizz while adding in moisture, it really left my hair feeling silky smooth and there was no need for me to use straighteners afterward as I was so happy with the result. For me this was the star product out of the two
I've been using these two every time I have washed my hair lately and I love how it makes my hair feel. When I stayed round my boyfriends I didn't have the Silk balm to hand and that's when I really noticed the difference, the softness that it leaves is just gorgeous. If you suffer with dry ends like me then these are definitely up your street!
Have you tried any Neal and Wolf Products?